Karma (Yuri Pakhomov)
Sold: 0
Refunds: 0
Uploaded:
13.12.2010
Content: text
(37 symbols)
Description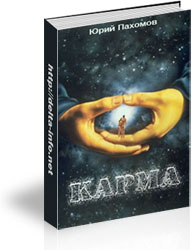 Fantasy novel
Author Yury Pakhomov
Publishing Delta info
-------------------------------------------------
Appeared out of nowhere a strange little man fifty-plus years, balding and red curls on his head appears in front of friends - students in the form of folk healer, the master of the occult and magic workshops, the messenger of civilization of black space, the secret agent of the secret intelligence services. Who is he really? Maybe just crazy? The end in contact with that person, and the person whether it is for young people, because everyone has their own karma?
-------------------------------------------------
........... Woman carefully walked Eureka and locked the door. Yurik clearly saw her trembling hand holding the gun. What is not good, and can shoot, these women are all nutty. That's right, her voice seems completely denied and she jabbed the barrel in the back, thus giving to understand that it is not unseemly to stand in front of the guest. Second invitation Yurik did not wait.

In the living room, where he had gone, sitting in the far corner, almost disappearing into a deep armchair, man. To call him a man would not turn language. So he was exhausted and withered, that is not been seen among the rich and bulky furniture. His eyes huge with deep bags under the eyes did not express a guest appearance no fear, no hatred, no respect, only indifference and apathy to leave this world of man.

-You Little of what you've done? - The woman's voice was nadlomannym and nervousness. - He dies, you're wanted? Or you do not like it too slow ... - The voice was ready to break into tears, if not hysterical. Yura felt good this time around and slammed a woman at arm's length, sbryakal gun on the floor. Without giving her time to recover, he grabbed her arm and flung into the room, on the sofa. The gun he instinctively picked up.

-Want To kill me with a pistol? - There was a depth of seat uninterested voice. - Is it too primitive at some of your opportunities?

Yes I shoot something can not. - Carefree admitted Yurik and threw the weapon in the closet. - Only his wife advised not to indulge, you hear it.

What do you want from her? The nerves are the strings that stretched tighter and burst.

Yurik, just in case sat in a chair across from the hosts. To leave it is not going away, even in such a situation is not simple. Something began to clear, but it was not enough. How to proceed? Revealed that was supposedly zazombirovan, I do not remember, you did not know before, and I do not wish evil. It works? Or play a game of cat and mouse? That, at least, they are afraid of me, is credited with some opportunities. What am I here for Fortelle curry?

The woman really lost all aggressiveness, just whines quietly, his face buried in a pillow. Her legs, bare and overhang from the sofa, had excellent form, and combined with a piquant pose, we acquired quite a seductive look that Yurik unwillingly became interested in their contemplation and lost idea of \u200b\u200bwhy he is here. It looks like a wreck, lost in his chair, and did not touch it. It did not make no sound, except that the heartbeat, but Eureka is now at the very heart beat be healthy and the presence of fading landlord, he did not feel at all.

-If You still do not know - said the chair - my doctor quite safely recovering at the hospital, although the blood you let him abound.

Well God bless him - waved Yurik, whether from the host or from his doctor, after all I care about right now is not it.

-that Is how? - It is amazing but true: a man standing with one foot in the grave, was still able to surprise. - Something has changed in your community?

What I blurted out, caught himself Yurik, even if covered herself than because I did the rubble. It was too late to retreat, and decided to act Yurik impromptu.

-I Indifferent period of your death. However, if you wish, you may never leave this
Additional information
The book is protected by an additional password for opening.
After payment and download books, contact the administrator of the publishing house at the address: ottoserg@yandex.ru for instructions on opening.
In order to counter copyright infringement and property rights, we ask you to immediately inform us at support@plati.market the fact of such violations and to provide us with reliable information confirming your copyrights or rights of ownership. Email must contain your contact information (name, phone number, etc.)