Literary Amur region. 1986.
Sold: 0
Refunds: 0
Uploaded:
07.06.2014
Content: 40607193934963.rar
(225,98 kB)
Description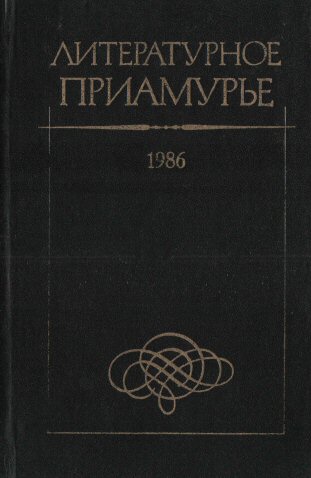 In literary and art collection "Literary Amur region" includes novels and short stories of the Far Eastern writers Vladimir Ilyushin ("Putin"), Alexander Grebenyuk ("Mountain"), Alexander Lozikov ("driver´s work"), Marina Derilo ("Bride and Groom") Victor Dybov ("Echo of the old quarter"), Nikolai Zaplechnikov ("Alien"), Vladimir Kuprienko ("Uncomfortable soul ..."), Anatoly Dolgacev ("Grishka sorry ..."), Galina Derkach ("Fighters") Vladimir Danilenko ("Stories of the experienced pilot"), Viktor Volchkov ("Silver Bekkeldeul").

In addition, the collection includes poems poets of the Khabarovsk Territory and the Amur Region: George Beldy Alexander Erokhin, Victor Yaganov Leonid Voevodin Yury Podgorochny Vera Shalneva, Alex Lapa, Alexander Semenov, Vladimir Rusakov Yuri Belinsky, Nikolai Rogachkov Boris Raines, Nina Dyakov, Gennady Khoroshavtsev, Alexander Baranov, Gavrilovskaya Irina, Vladimir Bespalov, Irina Bachurina Yuri Goverdovskiy Vladimir Zhuravlev, Vitaly Zakharov, Natalia Sychev, Elena Kalyuzhny Yuri Lagoshny Vera Arkhipova Yuri Tovbin, Marina Savchenko, Marina Makov, Andrew Samandin Yuri Arkharov, Lyudmila Rodikova Elena Nemenko Valentin Rybin Nikolai Vdovin.
Additional information
File format Word. Excerpt: "... And in the bloody glow of the fire fancies that girls are not legs, tails and scales shimmering swaying underwater. On their heads they had wreaths and singing girls, wringing her hands, singing plaintively and imploringly, so sing, that sitting in the bushes rogue unconscious Sunset heart and thinning hair on the crown lifted with an electrical crackling, spreading flicker. Here bronzovotely devil, bearded, broad-jumped ashore, threw an armful of dead wood on the fire, the flames leapt, and after it went up, increasing in size, giant mugs, rose above the trees, hung fleshy green edges. Vines hung, thick, hairy, some beasts leaped, laughing and out of the bushes - bared faces, one worse than another. Howl, laughter ... A bearded demon is the fire, his eyes gleaming mischievously, stamping his hooves, the tail end of the demon flexing arms akimbo, and small white horns in his hair glow. The air suddenly swung, sailed, trees swayed to the ground as if the grass and the air already, and water; some fish swim, and high-drake floats high above the moon, rocking on a wave. With his head thrown back floated floater - a thin, hairy guy in football shorts. The tips of the black mustache swaying in the water, and his face pale and sad. It is already above the forest emerged, and carries him up, his legs and arms spread-eagled, carries the black flicker, which, like the grains of frost on the glass, sparkling stars. The bearded devil beats a tambourine around the campfire, with his tail on his shoulder, and his dancing fat shameless witch, all swaying, shaking her breasts, and her thick lips thrilled, red flower blooms lustful smile, her eyes half-closed - both halves of the moon. Oo-oo-oo! - Rushing through the forest. Blaze cold fire rotten stumps of dead fish shadows obscure the moon. Suddenly from the bottom with a plaintive cry rushes to the moon hanging drowned young blonde virgin. It has a tail and rushes all of the above, leaving a trail of shimmering and flowing hair flying behind her, frightening shadows. Here caught up, hugged, wrapped tail clung to him, he moved his hand slightly, raised his head, shook himself, waking up, looked around and bent by hand, pressed to her chest her head, and around them shimmered inexplicable light, brighter, brighter here and has stripes on pants revived recessed visible. He embraced the fine maiden back, and the other took out from behind the sword, and both moved up, higher and higher, shine both to the distinguishable hair. And at the bottom, shaking her hair, jumping, wriggling swarthy body witch beats the tambourine, the devil goes through hooves and tail beats on his back mosquitoes. Out of the bushes bear paw swung, he roared. The devil jumped up and, red-hot from the friction on the fly, hollow, with a roar went over the forest. All glowing, dropping a drop of hot and black dross pieces, with his head burning, I stuck up vertically, made a loop, rattling and oplyvaya, flew over the very tops. Witch perched on a branch, spurred her rushed in pursuit of the devil. Wood broke, flew burning twigs, white-bellied fish with boiled scorched tails floated up to where the meteor floated demon, grinning and showing witch language. And out of the bushes came a huge man with a horse torso to the waist in the open on the bare chest padded jacket. In one hand - gun, in the other amphora from which splashes, flashing ruby \u200b\u200bintoxicating potion - a bucket of blueberry mash. Half-Horse-poluchelovek kissed the amphora-bucket, pulled the young freckled face with peeling noses, and how neigh - and-ho-ho! and-ho-ho! ... "Download: Literary Amur region. 1986. Collection.
In order to counter copyright infringement and property rights, we ask you to immediately inform us at support@plati.market the fact of such violations and to provide us with reliable information confirming your copyrights or rights of ownership. Email must contain your contact information (name, phone number, etc.)